Paper money from the Hashemite Kingdom of Iraq (issued from 1932 to 1959) can be counted among the most popular series of banknotes issued in the 20th century. Filled with rarities, a complete type set contains 44 issued notes, of which one is believed to be unique and can be considered non-collectible (The 1941 India Print 100 Fils, which was in circulation for less than a month). After working on a type set many collectors will also attempt to acquire all signatures, which effectively doubles the notes required and further adds several rarities few collectors can hope to acquire. Due to the rarity and expense of building such a collection (which, to the best of our knowledge, may never have been completed by any single collector) some people may be put off by the thought of collecting these iconic banknotes. However, even for collectors on a fairly limited budget there are still other ways to build an important and meaningful collection in a way not previously attempted by many: collecting a specific issue by prefix.
This 1/4 Dinar issued in 1950 (Pick-27) has the A prefix, which was the first prefix out of eight for this issue. A is not always the first prefix, but in this case, it is. 
Prefixes refer to the first part of the serial number. Typically, this is one or more letters (such as A or AB) or a letter and a number (such as , which in most auction descriptions and on third-party holders is listed to as A/2). Prefixes are typically changed every 1,000,000 notes, although there are exceptions. The first prefix for any given issue often receives a premium from collectors, and for some countries (such as Great Britain) both first and last prefixes are avidly collected. Due to a change in design, signature or some other facet of a banknote some prefixes may be printed in much smaller quantities. As a result some prefixes may be much rarer than others, simply depending on when the notes were released, if they were damaged in shipment or for other reasons. It is typically only through collecting a specific series by prefix that such knowledge becomes known. As of now, few collectors of Iraqi banknotes have attempted to collect in such a way, and price differences for specific prefixes are very minimal as of the time of writing (September, 2022).
This 10 Dinars was issued with A and B prefix. While 1,000,000 were printed of the A prefix, just 600,000 were printed of the B prefix. As a result, prefix collectors may find the B prefix to be more difficult to find.
Banknotes from the Iraqi Kingdom were, with the exception of the India print series from World War II, printed by Bradbury, Wilkinson & Co. in Great Britain. Thankfully for collectors print totals were well recorded, and prefix ranges can often be found on specimen notes to the firm. What few collectors know, however, is which prefixes had short print runs and should be considerably more scarcer. For example, the 1 Dinar with portrait of young King Faisal II and Kennet – al Haidari signature (Pick-18b) comes with Z prefix, as well as fractional prefixes A/1 to F/1. 900,000 Z prefixes were printed, as well as 1 million notes of each fractional prefix, except for the F/1 prefix, which saw just 40,000 notes printed before a new design was introduced. Needless to say, locating a nice example of the F/1 prefix should prove to be very challenging.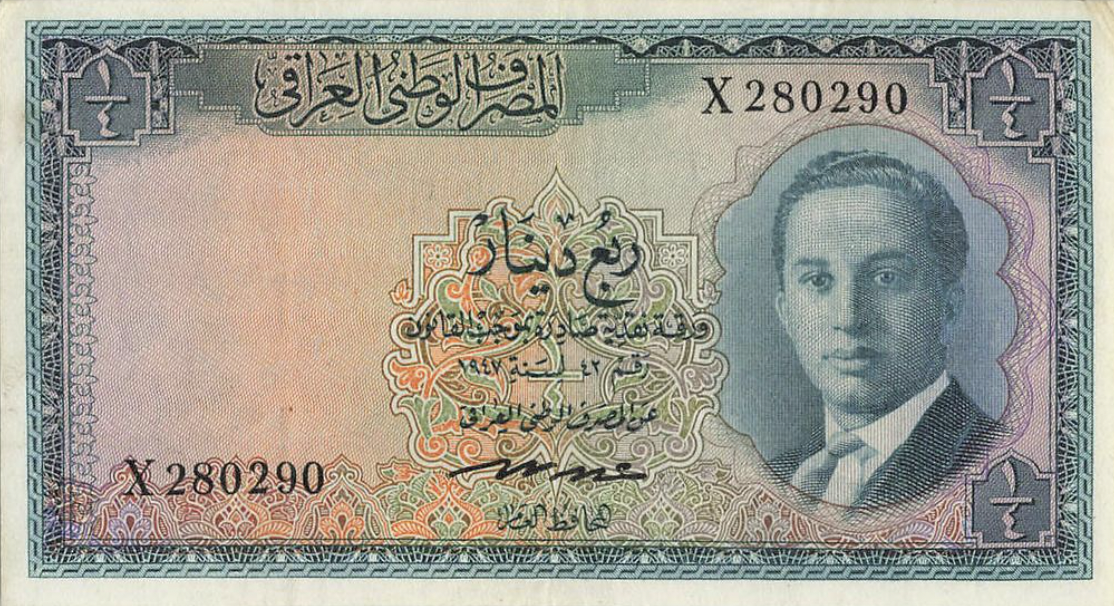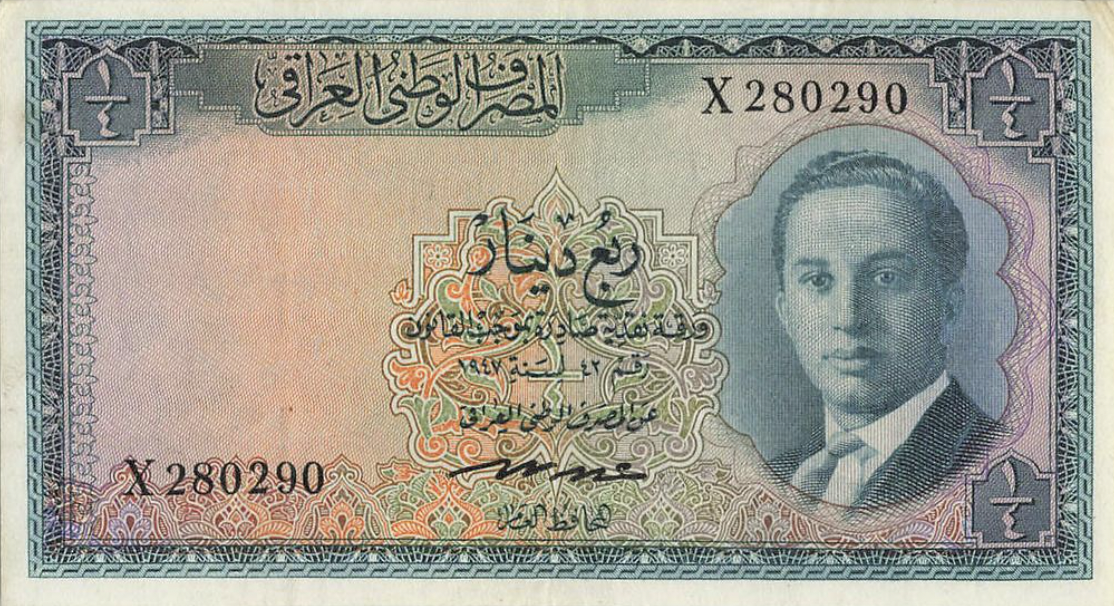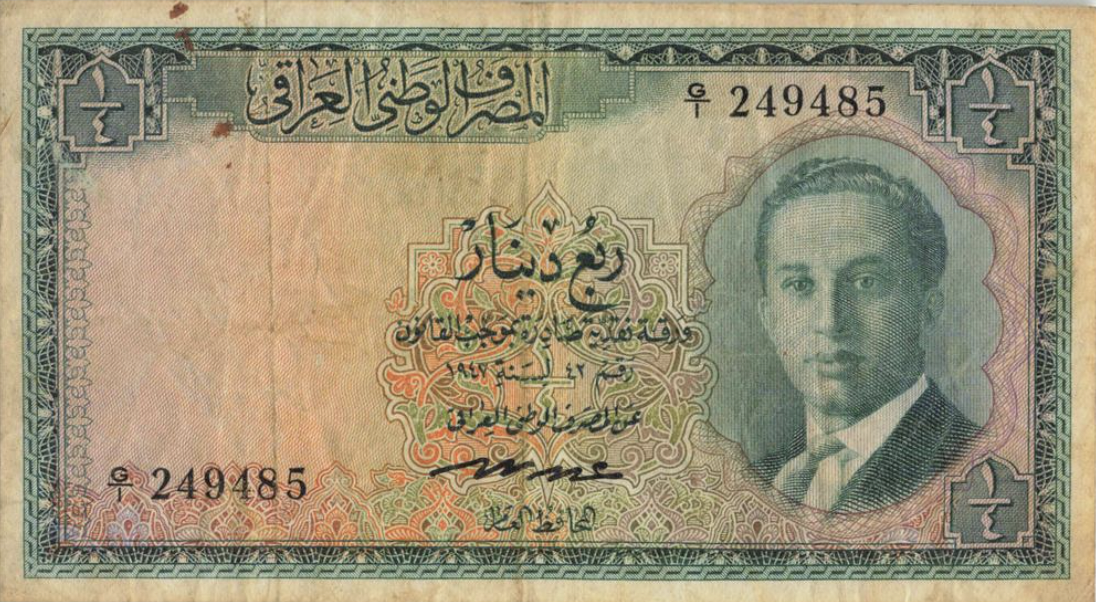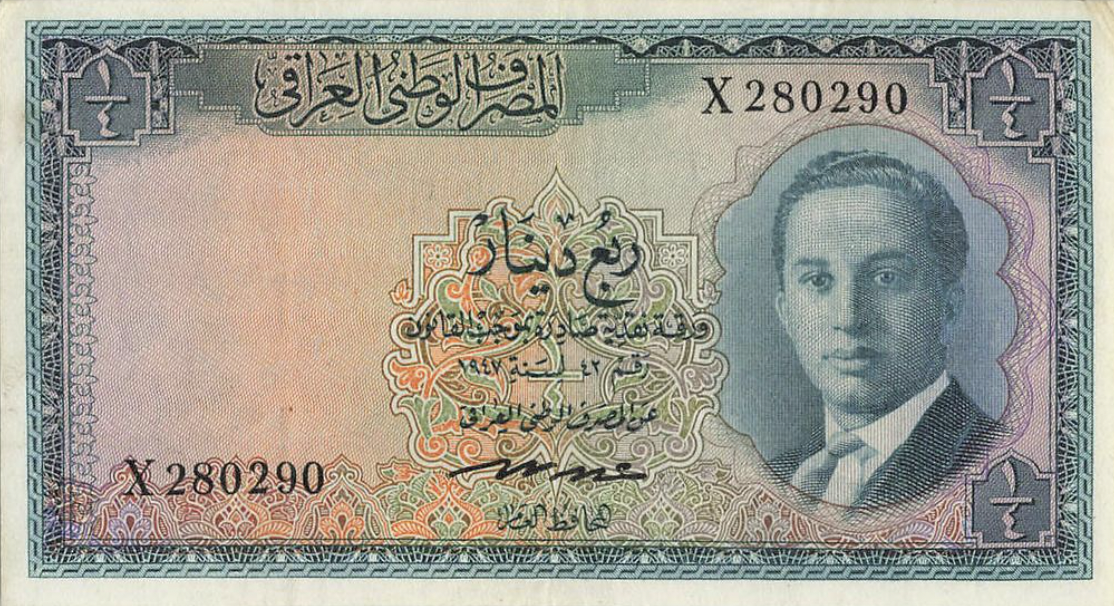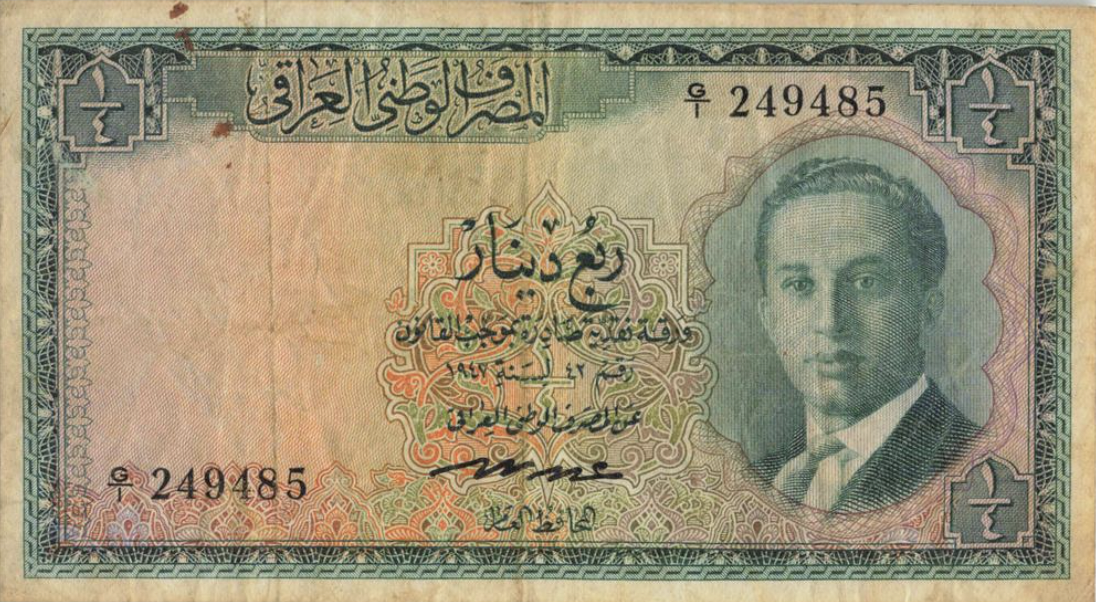 This type of the 1/4 Dinar was issued with 21 different prefixes, ranging from U prefix to Q/1 prefix. A relatively available type, putting together a set of all 21 prefixes should still prove to be a considerable challenge.
Prefix collecting can be a very rewarding experience for both beginning and advanced collectors, and especially for a popular and well researched series of banknotes such as the banknotes discussed in this blog post. It allows the opportunity to acquire a meaningful collection of a fairly limited number of types, but thoroughly delve into all the nuances of a specific issue. Prefix collecting is popular with numerous collectors of other countries (such as Palestine), but the area is understudied when it comes to Iraq, and new discoveries are waiting to be made. It is not something for the faint of heart, but for the dedicated collector looking for a new challenge, collecting by prefix is something that should be considered.